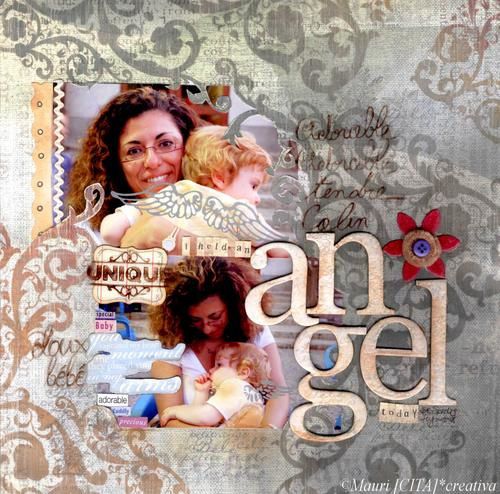 Esta página hecha con sellos de Absolument Scrap, con éste angelito tan tierno fue publicada en la revista virtual 100%Scrap. Esa revista fue reemplazada por Moments Scrapbooking en papel, cuyo segundo ejemplar encontraran mañana en los kioskos. En el primer numero habrán visto una de mis paginas que sirvió para un excelente scraplift realizado por Sabine.
This page made with Absolument Scrap stamps, with this tender little angel was published in the web magazine 100% Scrap. Moments Scrapbooking in paperback replaced this magazine. You will find the second edition of Moments Scrapbooking on the paper racks tomorrow. In the first edition there was one of my pages which was scraplifted by Sabine in a great way!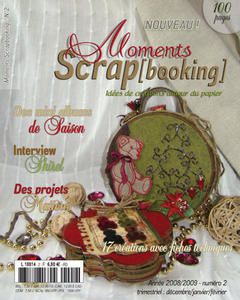 Cette page faite avec les tampons d'Absolument Scrap avec un si tendre petit ange fut publié dans le magazine virtuel 100% Scrap. Ce magazine fut remplacé par un vrai magazine en papier Moments Scrapbooking qui sort son deuxième numéro demain dans les bacs! Dans le premier numéro vous avez pu voir une de mes pages magnifiquement scraplifté par Sabine.
MATERIALS USED FOR THIS PAGE: Paper Creative Imagination Blue Scroll by Marah Johnson, Transparent Paper, Canson White Cardstock, Heidi Swapp Rub-ons Silver Metallic Wings, Zsiage Alpha Structures Lowercase Prim & Proper Chipboards Letters, AlphaStickers Tiny Alpha Letters, Diecuts & Tags Collage Press Tell Your Story, Making Memories Word Fettis Stickers, Making Memories Like It Is Stickers, Magenta Bebé Stamp, Absolument Scrap "Fille Garçon" Stamp, Stazon Brown Ink Pad, Ranger Distress Vintage Photo + Weathered Wood + Top Boss Clear Ink Pads, Embossing Utte Transparent Powder, Ranger Perfect Pearls Forever Red Powder, White Swirl Ribbon, We R Memory Makers Cropadile, Brown Piper Cleaner, Flower Puncher, Blue Button, Faber Castell Brown Marker, Pentel Hybrid Silver Pen