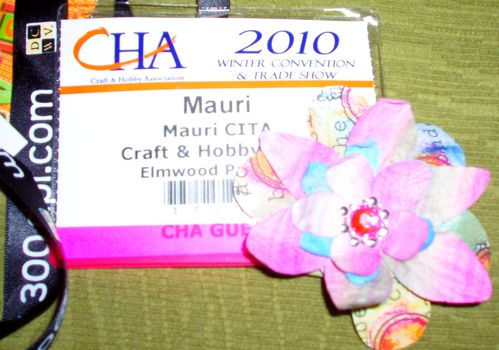 Sin mucho aviso, ni el tiempo de darme cuenta... me encontré con un badge de invitada del CHA, el salón de Manualidades y Hobbies (Craft and Hobby Association Trade Show) en California…5 dias maratónicos, intensos... e increíbles, en el medio de gente de todo el mundo! Fui con Gaëlle, un angel (de Tattered Angels...)
Lo que más me gustó???? Estar totalmente sumida en ese american approach con gente expresiva y outgoing... el customer service… y un recibimiento de reyes! Y por supuesto, el mundo del scrap (what else?) con los últimos productos en el mercado. Los inolvidables encuentros, con las artistas y creadoras que una solo conoce a través de las fotos... y las que ya conocí en algún momento de mi vida… como mi ex-compañera de Universidad Marisita que vive ahí en California.
Vaya experiencia... La viví al máximo! Estoy todavía en las nubes... y jetlagged...
Without much of a notice or time to realize, I found myself with a CHA guest badge, the Craft and Hobby Association Trade Show in California... 5 marathon days, intense ... and incredible, in the middle of people from all over the world! I went with Gaëlle, an angel (from Tattered Angels…)

What I liked the most?? Being totally immersed in the American approach… with people expressive and outgoing... the customer service... and a royal welcoming! And of course, the scrapbooking world, (what else?), with the latest products on the market. The unforgettable encounters with artists and creative talents that one knows only through photos.... and those I have already met at some point in my life ... like my University ex-classmate Marisita, who lives there in California.
What an experience…I lived it to the fullest. I'm still in the clouds ... and jetlagged…
Sans beaucoup de préavis ni le temps de réaliser, je me suis retrouvée avec un badge d'invitée du CHA, le salon de Loisirs Créatifs, (Craft and Hobby Association) en Californie.... 5 jours marathoniques, intenses… et incroyables, entourée de gens venus du monde entier! Je suis allée avec Gaëlle, un ange (de Tattered Angels…)
Ce que j'ai aimé le plus?? D'être totalement immergée dans l'american approach avec des gens expressifs et outgoing...
le customer service... et un accueil royal! Et bien sûr, le monde du scrap (what else!), avec les derniers produits sur le marché. Des rencontres inoubliables avec des artistes et créatrices que l'on ne connaît qu'à travers des photos... et ceux déjà rencontrés dans ma vie... comme ma camarade d'Université Marisita, qui vit là en Californie.


Quelle expérience…j
e l'ai vécu pleinement ! Je suis toujours dans les nuages... et jetlagged…

Sorry some of the photos aren't very good...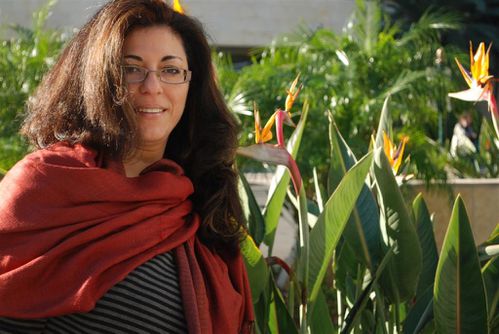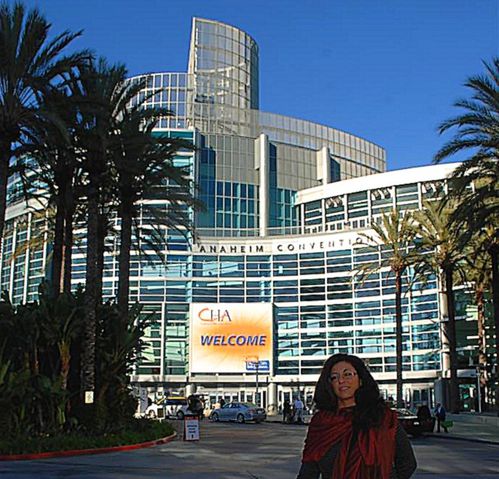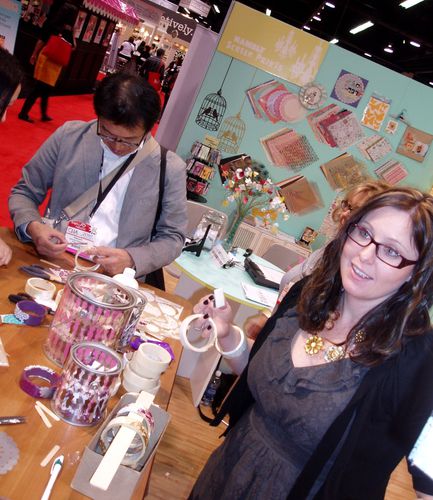 Lovely meeting
Allison Kreft Abad
hosting a rub-on
bracelet make and take
,
Rose and Mr Hambly himself at the Hambly
booth.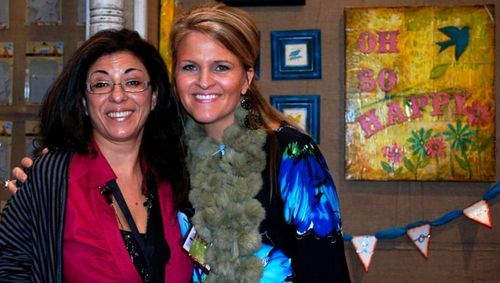 Melody Ross such a special artist at GCD Studios booth. Loved everything there! Texture and more texture, linen, flocked, glittered... and check out their new chip art and fab tools here.

She really is, definitely, altogether too happy, and it feels great! Stacy Julian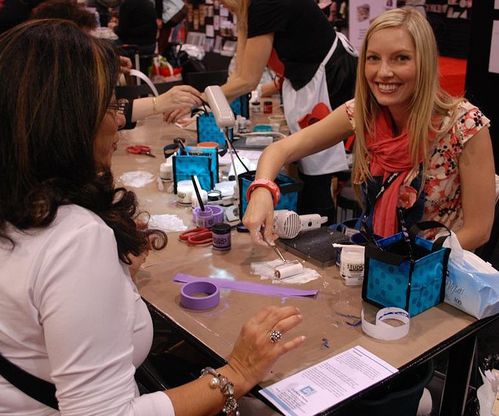 Getting those fingers dirty for an arty bracelet with Claudine Hellmuth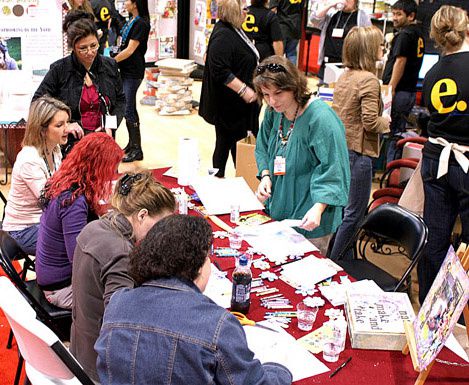 Playing with the Prima new watercolour goodies with Nathalie Kalbach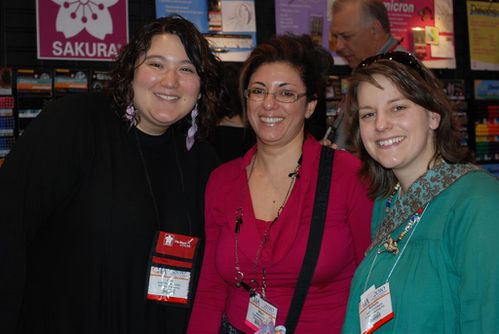 and also met Julie Balzer from the Sultane DT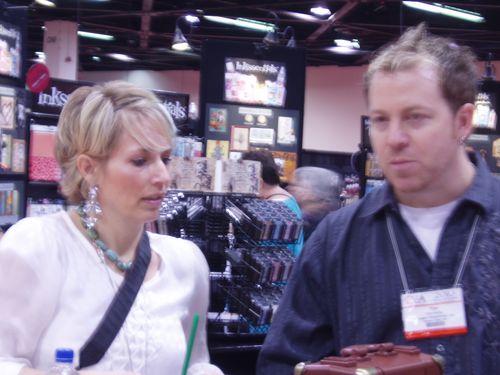 Saw Rhona Farrer with the House of 3 while Heidi Swapp was interviewing Tim Holtz
also busy filming was Noell and Suze Weimberg had her beautiful art work at the Ranger booth
For the Craft Avenue Design Team I had the pleasure of meeting in person
Suzanne Carrillo for PDQ Bzoos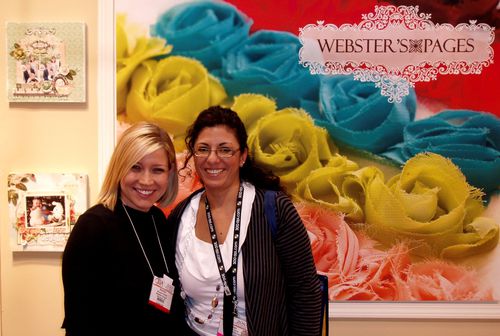 Brandin Myers for Webster's Pages
Carrie Postma for Paper Trunk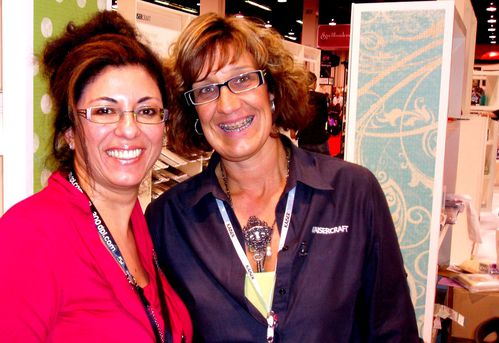 and all the way from Australia at the Kaisercraft booth with a fab make and take and incredible give aways Melissa Kennedy

Du coté français, les stands de Cathy avec ses papiers Au Delà des Cimes et Stampavie avec Heidi et Stuart, what a pleasure to finally meet you in person!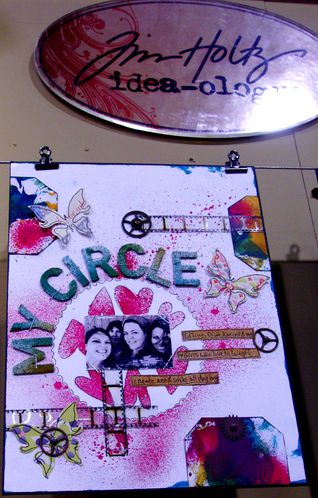 Céline Navarro qui faisait des demos, sa binome, l'unique Karine Cazenave-Tapie

qui étaient aussi sur un LO de Corinne Delis sur le stand de Tim Holtz
mais aussi Céline Hidalgo, Emma Rehri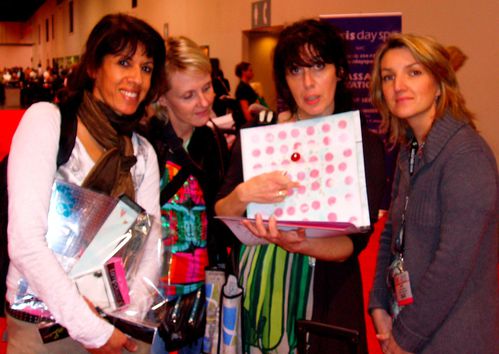 Gaëlle
et ce trio magique
(plus besoin de les présenter) en cabriolet SVP!
autour du Carnets de Scrap
qui a dit 7Gypsies… ? la tendance du CHA Vintage… bohème... yes!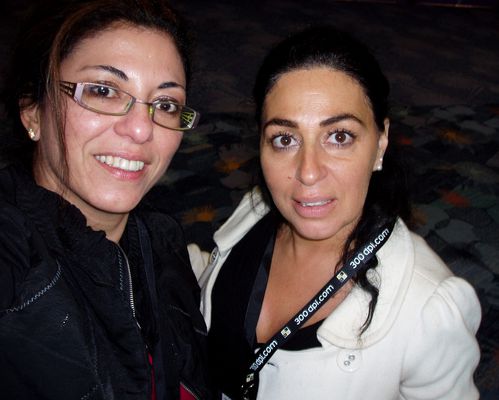 y mi super socia de la Universidad... Marisita, que genial encontrarte ahi querida!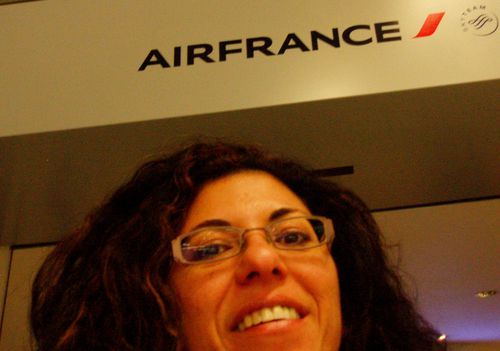 es hora de volver a casa... pero el aterrizaje se hace dificil eh?